(Adapted from a MySpace bulletin)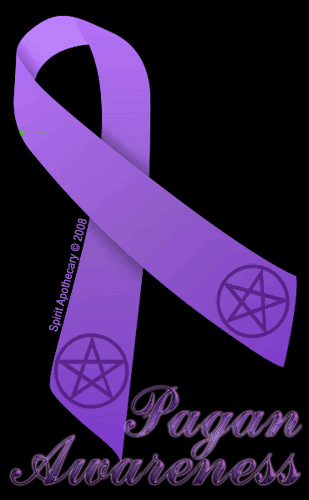 During the months of September and October many communities celebrate Pagan Pride Day. With Pagan Pride, it's the time to celebrate our Spirituality, give thanks, and a time for renewal and rebirth. September 22nd is the Autumn Equinox, and time to wear our Purple Ribbons! The Purple Ribbon campaign was started by FOTE* in 1997 to show our support for religious tolerance and the freedon to believe in our own paths.
September 22 is the day to wear our Purple Ribbons, but why keep it a single day? We should wear our ribbons all the time! By wearing our ribbons we can help ease fears and promote tolerance!
You're welcome to use the graphic on your blog!

Blessings of love, light, peace,
& hope!
Matthew & Melissa
Spirit Apothecary Botanicals & Findings
664 Broadway Ave
Bedford, OH 44146
(440)439-HERB
spiritapothecary. com
*FOTE:
Fellowship of the Earth